On March 18th, 2023, the opening ceremony ofHardstone Optoelectronics (Factory in East China) was grandly held in Xinchang,Zhejiang Province, China. Important clients of Hardstone (BYD, JAC Group, GAC,XCMG, GEELY, etc.) gathered together to witness this historic moment. The newfactory has further consolidated the intelligent manufacturing strength ofHardstone, marking that Hardstone has entered a new stage of development in thefield of automotive electronics!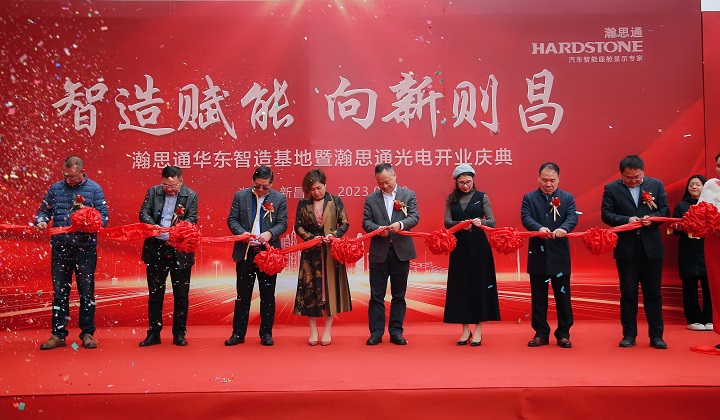 About Hardstone
Hardstone is a national high-tech enterprisespecializing in the research, development and manufacturing of automotiveintelligent products. Since its establishment in 2013, Hardstone has beencommitted to creating value for customers and striving to be a world-classcompany with the vision of "To be an expert in automotive intelligentcockpit display" and the mission of "Make driving safer and moreenjoyable ".
Our main products include: cockpit domain control products,windshield head-up display (W-HUD), augmented reality head-up display (AR-HUD),in-vehicle multimedia system, etc.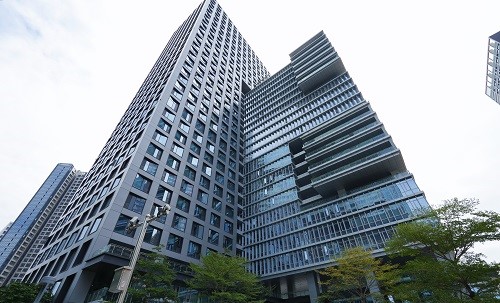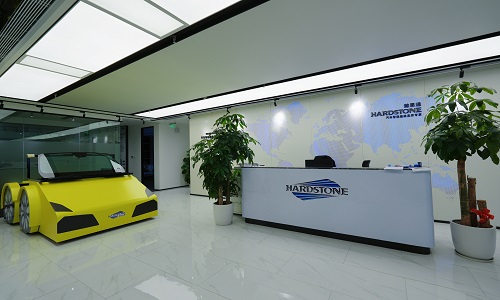 About HardstoneOptoelectronics
Founded in 2021, Hardstone Optoelectronics(Zhejiang) is a wholly-owned subsidiary of Hardstone. Served as Hardstone'sintelligent manufacturing base in east China, Hardstone Optoelectronics isdevoted to building a digital "Smart Factory", with an annualcapacity of 500,000 sets for AR-HUD 3.0.
In addition to modern laboratory and 10000-classdust-free workshops, the factory is also equipped with advanced automaticassembly lines, international high-speed SMT lines, optical precision testingequipment, etc. In accordance with IATF16949,ISO14001,ISO45001 certification systems, and conduct VDA6.3 quality management toprovide reliable and high-quality service for OEMs.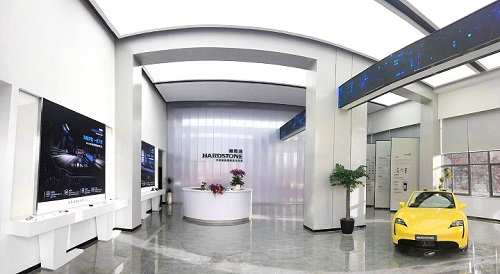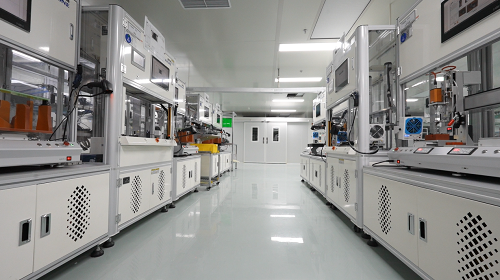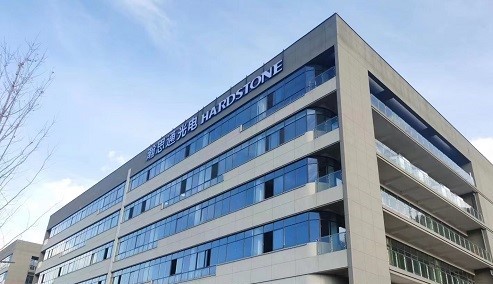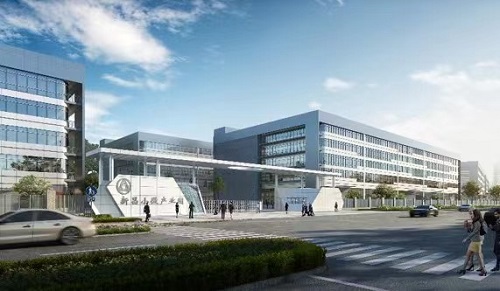 Through years of technical accumulation and abundant experience in theautomotive electronics industry, now Hardstone has honed its excellent R&Dstrength, intelligent manufacturing capability and professional service system.Many cutting-edge intelligent cockpit products had realized mass production,and the reliability of products has been fully recognized by the market. Thedemo car equipped with Hardstone's cutting-edge products such as LCoS basedAR-HUD, cockpit domain controller, CMS, etc. made a stunning appearance in thenew factory.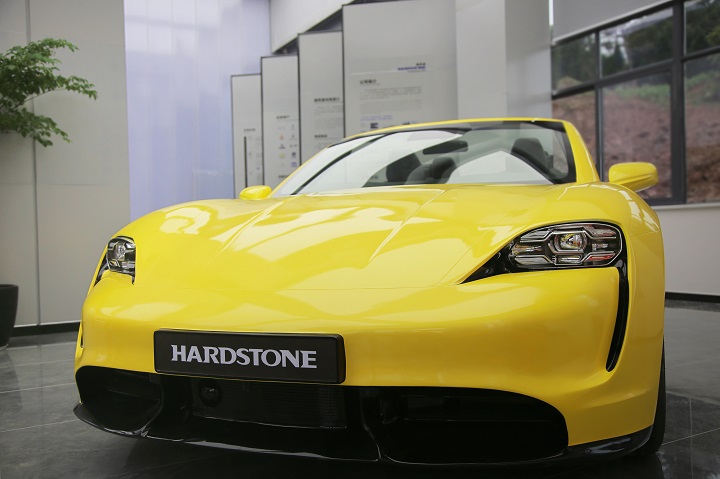 About LCoS based AR-HUD
AR-HUD is an optical system that can projectmultiple vehicle information into the driver's vision field, enabling thedriver to precisely obtain important vehicle information while staying focusedon road traffic and therefore significantly improving driving safety.
The LCoS based AR-HUD developed by Hardstone, with higherresolution (1920*1080), has solved the problems of volume, heat dissipation,sunlight backflow and other challenging problems through the optimization ofstructure and design, which can provides >13 meter display distance and >90inch virtual image size.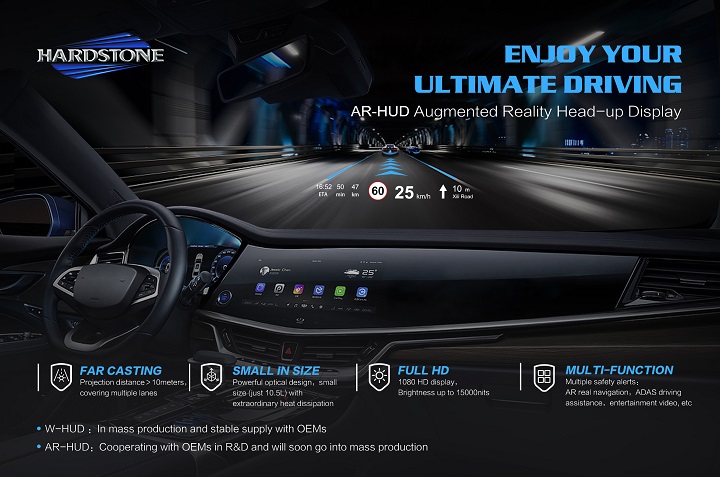 About Cockpit Domain Controller
Combines multi-displays (IVI+LCD Cluster+ HUD+Rear-Seat Entertainment) and multi-systems (Android + Linux + QNX+RTOS)into one platform to meet the individual needs of car owners with theadvantages of high integration, high performance, and high scalability.
In addition to super CPU, GPU and AI computingpower support, the Cockpit Domain Controller developed by Hardstone also equipswith nine cameras to provide all-round driving safety guarantee, which iscertified with AEC-Q100 and ASIL-B.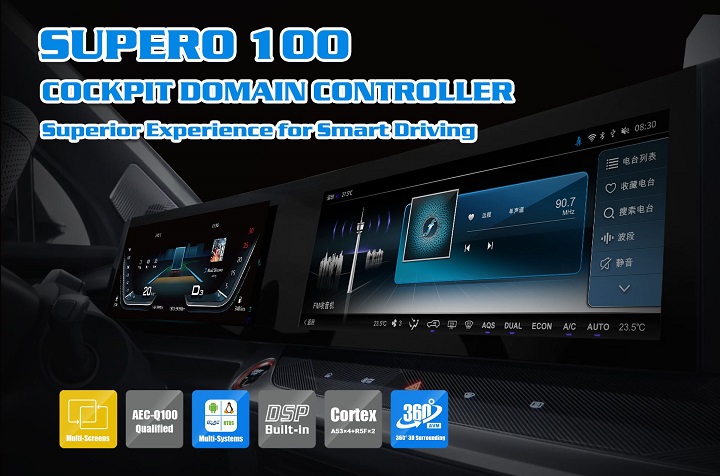 In the coming days, Hardstone will focus on both externaland internal improvement. In terms of the interior, we commit to productsoptimization. With quality as the core and innovation as the driving force, Hardstonewill exert itself in independent innovation, high-standard supply, and rapiditeration of products. In terms of the exterior, we will explore further to leadthe development of the industry. Together with the upstream and downstreamenterprises of the automotive electronics industry chain, Hardstone will deeplycondense industry wisdom and share the development dividend to realize Win-Win!