On April 18, 2023, the 20th International Automobileand Manufacturing Technology Exhibition was grandly held at the NationalExhibition and Convention Center (Shanghai). As one of the largest and most influential internationalA-level Auto-exhibition in the world, this exhibition is undoubtedly animportant window to witness the upgrading of automotive-related technologies.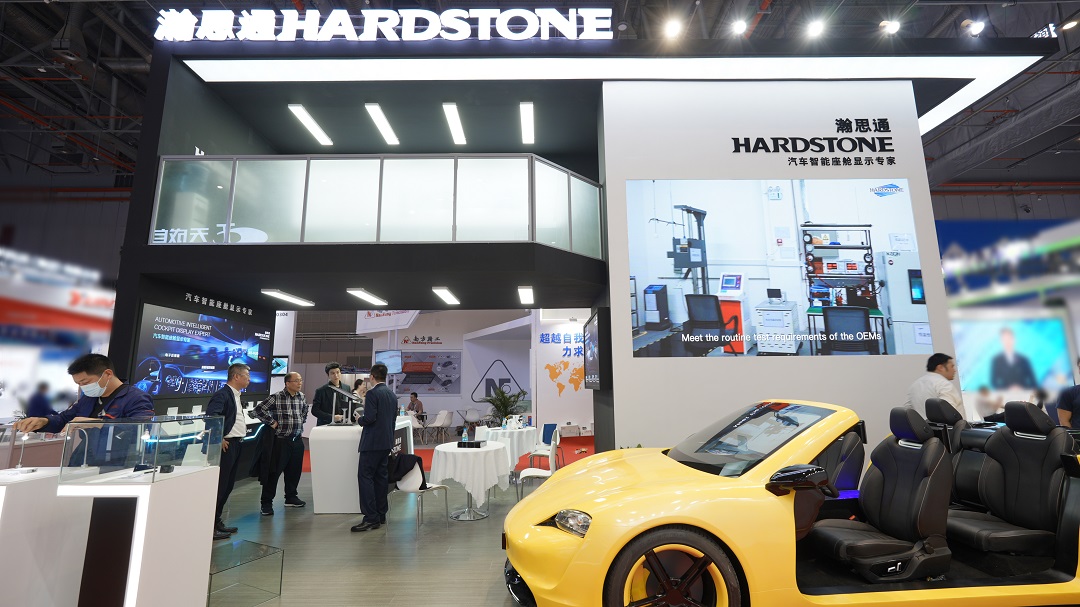 As the expert in automotive intelligent cockpit display, Hardstonestood out with cutting-edge LCoS AR-HUD and the latest intelligent cockpitproducts such as Supero 200 cockpit domain controller, Mirrow 300 carmultimedia system, camera monitor system…, which attracted a continuous streamof visitors.

In recent years, the R&D of Hardstone's HUD technology has maintained a high-speediterative upgrade. From W-HUD to AR-HUD, Hardstone not only delves deeply intodisplay technology, but is also committed to bringing users a more intelligent car-humaninteractive experience. The next generation product AR-HUD 3.0 of Hardstone is basedon LCoS technology, which will comprehensively improve product performance andexperience.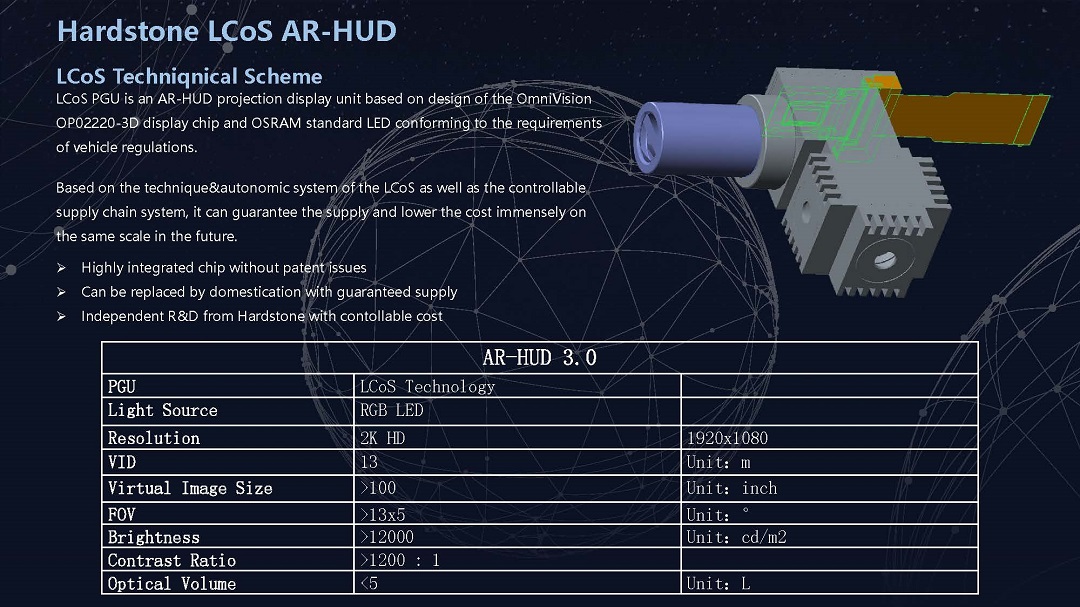 Through optimization in structure and design, LCoS AR-HUD hassolved the problems of volume, heat dissipation, sunlight backflow and otherchallenging problems, ensuring driving safety and comfort in various complexenvironments. In addition, to further strengthen the production capability ofLCoS AR-HUD, Hardstone established the intelligent manufacturing base ineastern China,withan annual capacity of 1 million sets for AR-HUD 3.0, fully meeting the massproduction needs of the OEMs while keeping the costs under control. Thisproduct also supports professional customization of the whole machine design,realizing the best matching of different kinds of cars.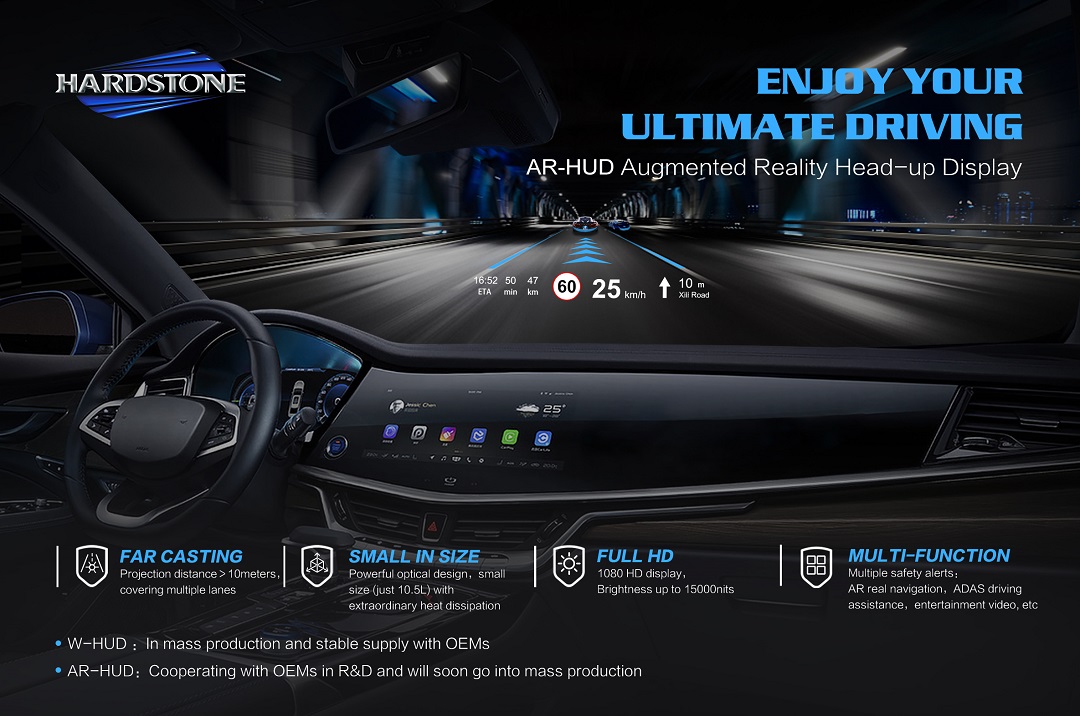 A forward-looking vision and the right decisions areessential to create greater value on the basis of technological achievements.Hardstone is not content to stop at its current achievements, but is furtherengaged in the research and development of naked-eye 3D AR-HUD, injecting newvitality into the development of the entire vehicle industry and promoting theautomotive industry's transition into the era of metaverse.
In addition, it is also worth mentioning that Hardstone'slatest masterpieces, Supero200 and Mirrow300, also attracted a lot of attentionat this exhibition. Whether it is the high-performance Supero200 cockpit domaincontroller, which supports concurrent 6 displays for IVI/Cluster/HUD… withdifferent contents, or the newly upgraded Mirrow 300 car multimedia system thatsupports certified wireless Apple Carplay and Android Auto, both are the bestproof of Hardstone's strong R&D strength.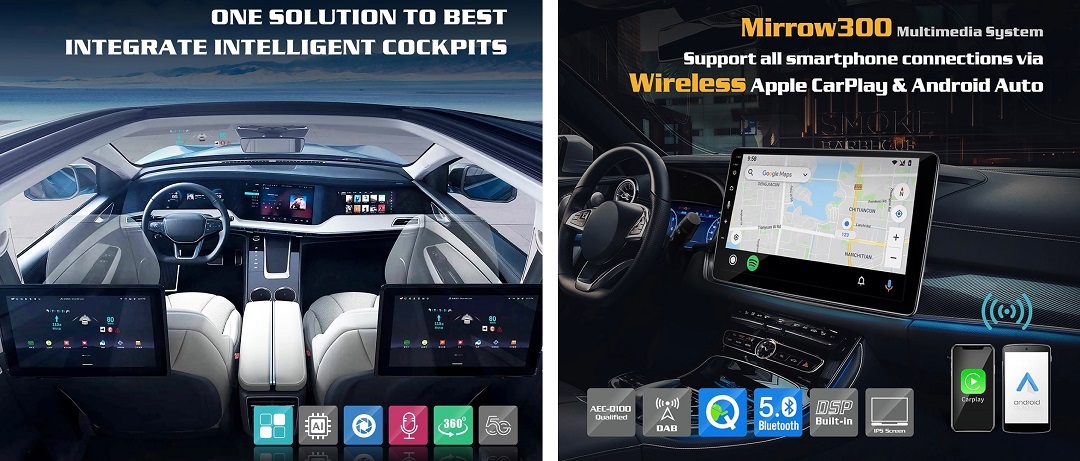 Products are an important benchmark for measuring a company'sstrength. As an innovative enterprise focusing on intelligent cockpit displaysfor automobiles, Hardstone always adheres to innovation and constantly pursuesnew breakthroughs. We believe that each new technology/product is an importantmilestone for Hardstone's advancement to become an industry-leading enterprise!Hardstone keeps improving its technological and R&D strengths, andconstantly introducing more leading and innovative solutions for the automotiveindustry!